Risk and Vulnerability Assessment
A Risk Assessment identifies the potential threat events and linked risks an organization may be facing. The process requires an analysis of historical data of security or criminal incidents which may have taken place on or near the facility or location under consideration. Available intelligence and probability of crime assessments may also be used to define the threat and risk environment. Added to this is the assessorís industry knowledge and experience over a range of environments which may have similarities with respect to threats, risks and impacts.
A threat and risk assessment normally precedes a security vulnerability assessment which identifies security vulnerabilities or weaknesses existing at the facility or location(s) where business is conducted. A criticality and prioritization analysis for mission crucial assets forms part of the vulnerability assessment and facilitates definition of where security remedies are most needed. Processes such as Pair-Wise Assessment and Pareto Analysis are often used for this purpose. The figure below details some common steps for both the risk and vulnerability assessment processes.
<![if !vml]>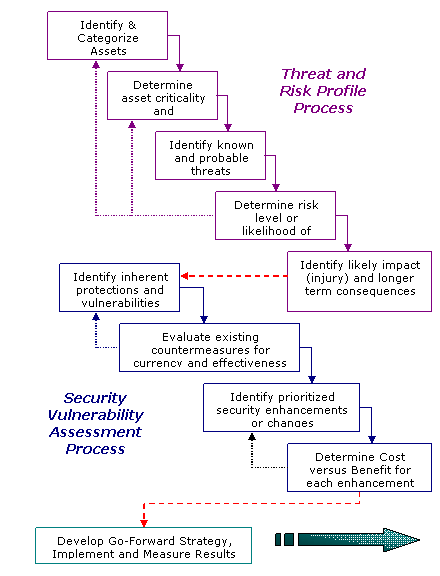 <![endif]>
Our reporting addresses the vulnerabilities and how best they might be addressed in a practical manner. We provide prioritized recommendations and an implementation plan focused on strategically improving the security of the site and the safety of the individuals who work or visit there.
To provide clients with a structured process for tracking and completion of security recommendations TBG often uses the SecureAssess data collection and analysis tool which automates the collection, collation, reporting and follow-up information in a consistent manner for each site or facility.
This process also facilitates the selection of security compliance levels, which may be stipulated by regulation or corporate polity and automatically reports when specific areas of security fall below the target levels.